Bookmarking companies are designed such that their websites allow their fans to partake in different types of sports. As of today, Bet9ja is one of the most popular names in the sporting scene in Nigeria.
This piece will reveal how to open a Bet9ja account online—both on desktop and mobile. So, sit back and relax as I take you through one of the easiest ways of registering an account.
Desktop Registration
Step 1
The first thing to do is head to the website, www.bet9ja.com. When the page loads, you will see a page like the one below. Click on the Register button to start your Bet9a registration; it is marked in the image. When you do that, another page loads.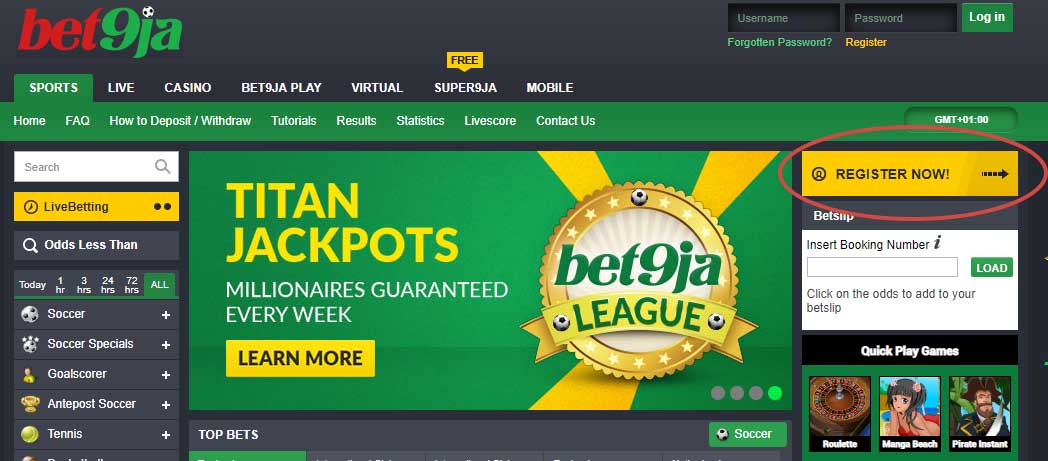 Step 2
This step is also straightforward. It requires that you fill your details in the spaces provided, for example, a valid email address. From the image below, you'll have to fill in the first space your email address and confirm it too. You can use a promotion code if you have one. The next thing to do is accept the privacy policy, including the terms of use of the website. You'll also confirm you're 18 years of age. In the end, click the"Register" button.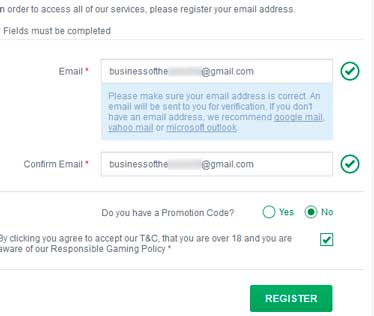 As soon as that it's done and your Bej9a registration is accepted by the company, you'll get a confirmation message like the image below. You're almost done. But you will have to check your mail to activate your account. Activation of your account completes your Bej9a registration.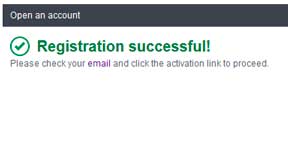 Step 3
When you follow the link from your mail, it will take you to the Bet9ja website page. On their website, you'll have to fill in your personal details. You'll also be required to create a strong password—use a combination of letters; uppercase and numbers.
Mobile Registration
The mobile registration follows the same way as the desktop platform and does not require too many fillings. The homepage is shown below with the "Register" button by the top right-hand corner. Click on the button to start your Bet9ja registration.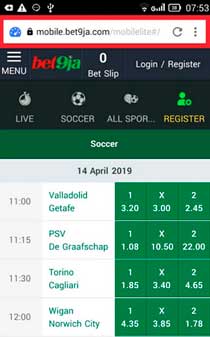 The page below emerges for you to enter your email address, First Name, and Last Name. Other information to be filled will be your Date of Birth. Click on "Continue" to finish your Bet9ja registration. If you have a promotion code, you can enter it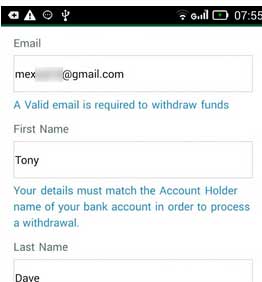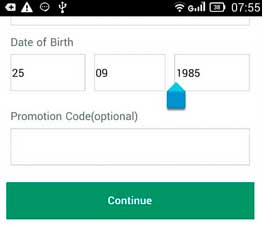 You will need to enter your Date of Birth and phone number. Other information that will be requested is for you to create a secured password which you have to enter twice. Ensure that the information you supplied is accurate. Otherwise this could hamper your chances of receiving your payouts. The final step would be to accept the website terms and conditions. When that is done, you'll have to click on the "Create Account" button as shown below.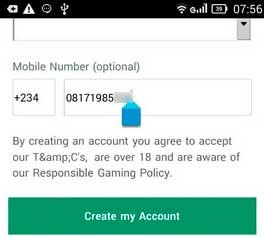 One more thing, you need to activate your account by visiting your email and click on the confirmation link from Bet9ja. That completes your Bet9ja registration.
As an account holder, you can deposit to your account and kick-start your journey to the top. Keep winning and cashing out.
Commentaries{{ commentaries.total }}