Betway is a platform at the forefront of online sports bet in Nigeria. It is a platform that is safe and secured and offers the best sporting action, including betting opportunities on major tournaments and leagues around the world. Since inception, they have gathered strength and have demonstrated a tremendous commitment to great sports betting entertainment in Nigeria.
On Betway, you'll find an array of betting odds for sports like football, rugby, cricket, tennis, baseball, basketball and lots more. If you're a great fan, you can put your money where your mouth is by placing a bet to support your favorite team.
Desktop Registration
Betway registration is simple. It only takes a few minutes to create an account with fewer clicks of the mouse. The only thing you have to do is enter your personal information; after that, you can deposit funds into your account and start betting your way.
Using our detailed guide to Betway registration, we will take you by hand through the registration process, with all details to start betting right away.
Click on betway.com.ng and sign up when you arrive at the Betway landing page. There is a Register link in the top right corner of the page, as it is highlighted in the image below:

Completing the registration only takes little time as the pages load quickly. The first part is on how to register using the desktop platform. The mobile registration is further down the page.
You will be directed to fill a two-part registration form. The first part of the form requires that you enter your Account Details with your mobile number coming first. You'll then choose a password—something you can easily remember, though not too easy to detect. And if you forget, avail the "Forget Password" option right on the home page for a password reset.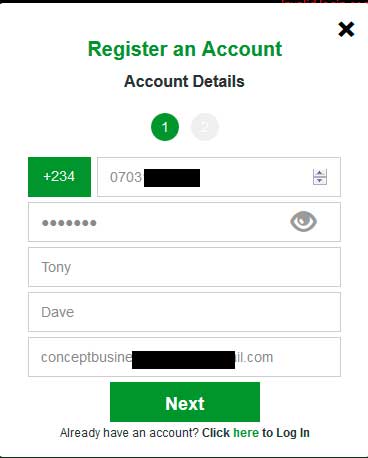 As you finish up the first part, click Next as seen above and the second part will pop open. Here you'll be required to fill your other details; date of birth, as well as your address and the State where you reside. You tick "I have a sign-up code" box if you have one and insert the code.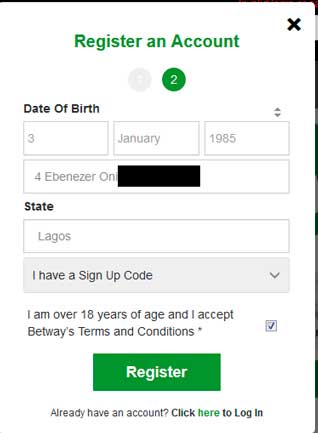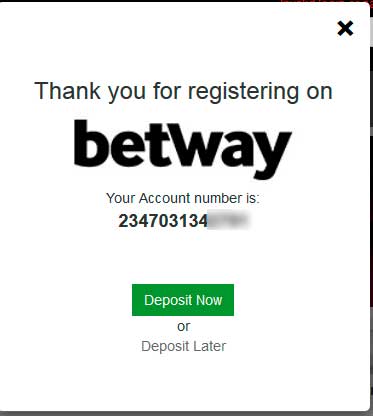 The screen above will pop up, confirming your registration. If you, however, encounter any issue during registration, you can contact the Support Team.
Betway Mobile Registration
The mobile interface for Betway is user-friendly too, and you'll find it easy to navigate. Click on the sign-up button as seen below to start your registration on the mobile platform.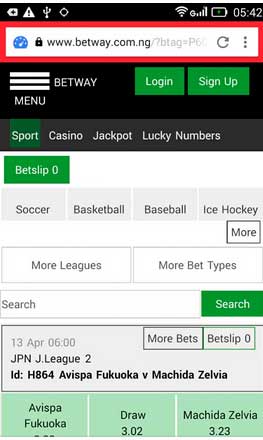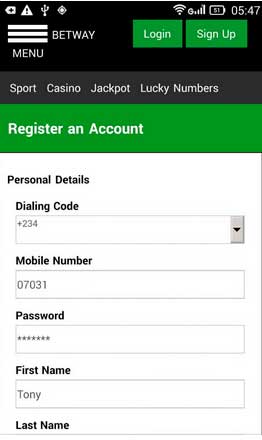 Another page will load requesting for your details—First Name, Last Name, etc., Address, Phone number, etc.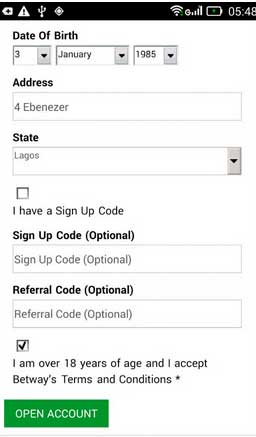 If you have a sign code, insert it in the space provided or even a referral code; they are both optional. Click the box provided if you agree to Betway's Term and Condition. After that, click the "Open Account" button.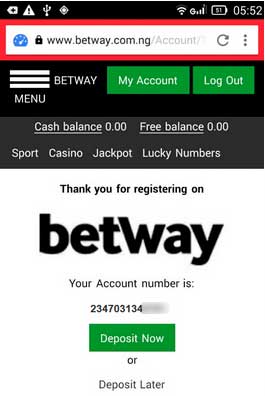 When the screen above pops up, you've have completed your Betway registration, and you can proceed to make your deposit immediately or much later.
Enjoy placing a bet on your favorite team; it is as easy as a piece of cake. Join the fray and don't be left out of this sporting entertainment.
Commentaries{{ commentaries.total }}