Merrybet ranks among the top betting companies in Nigeria, offering customers impressive odds on matches, and these customers also have the opportunity to predict free week in week out. Merrybet boasts of the best customer center for your complains—withdrawal, funding, and registration issues.
The betting company has gone a step further to redefine the face of sports betting in Nigeria, from football, basketball, hockey, virtual and so much more. When it comes to claiming your winnings, it rests assured that you'll get your reward immediately either online or in their shop.
On your first deposit, you're guaranteed a bonus of up 30% either on desktop or mobile phone. This is one of the benefits that Merrybet offers new users on their site.
If you're using an android phone, you can download the Merrybet mobile app and install Opera Mini mobile browser to enjoy the mobile version of the website. Merrybet registration on desktop follows the steps below.
Desktop Registration
The first step is to navigate to the merrybet website; https://www.merrybet.com. On the homepage, you will see the "Register" button on the top right corner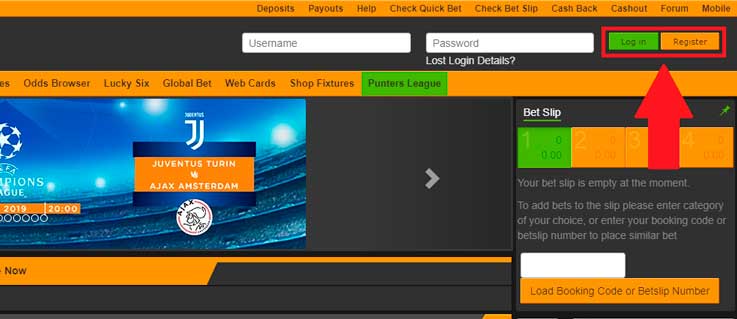 By clicking on the button, you'll be taken to another page where you'll have to fill your details such as first name, surname, username, date of birth, password, phone number, etc.
Ensure that your information is accurate and as you have it on your bank details. The first name and surname that you insert must be the same as your bank account. Otherwise, you may have issues cashing out your winnings.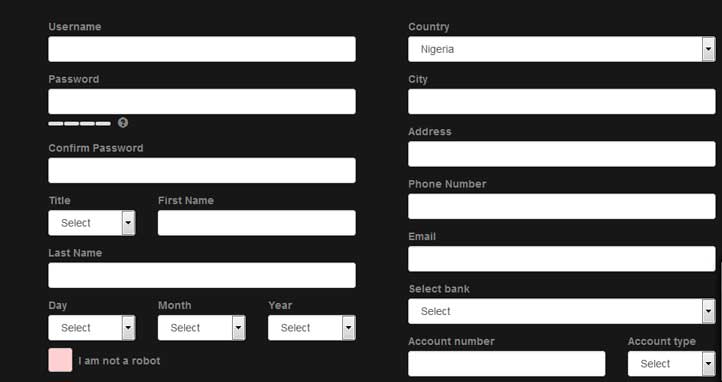 When you're are done filling your details, choose a password that you will like to use on the platform. Confirm the password, so the detail is correct. Now you can tick the agreement to the terms and conditions box, and finally the "Register" button.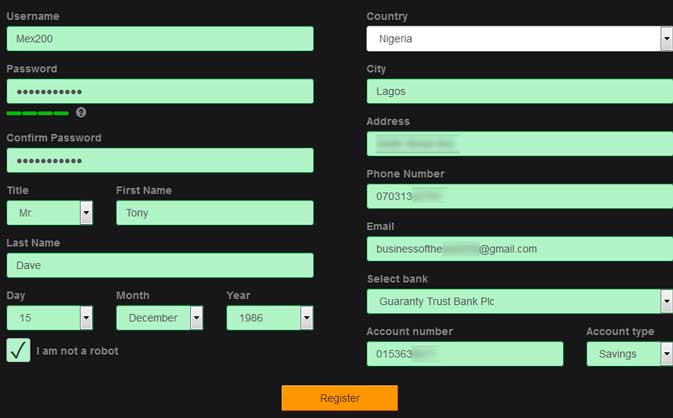 At this point, you'll need to head to your email to activate your account. To do this, open your mail box and you'll see a welcome message from Merrybet. Click on the activation link sent to your mail and that means your Merrybet registration is now complete.
Mobile Registration
Merrybet has owned a mobile application long before now. It features simplicity and reduced functionality; meaning you'll only see the content that users need. That makes it easy for the user to navigate and find the information they need as quickly as possible. So, you'll get the Merrybet mobile app in both newer and older version, but the newer version is recommended. For the new app, you'll get better optimization and a more user-friendly interface and so much more.
From the app, click on "Signup" and you're taken to the page below.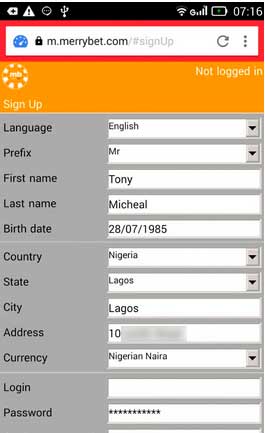 Fill your details just as you have them on your bank details—First Name, Last Name, Birth date, etc.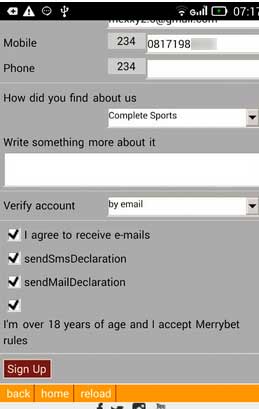 Fill in your mobile number. Ensure that you thick the boxes as shown in the image above. Then click the Signup button. With that done, you'll get a message confirming that your Merrybet registration is complete.
As a new user, several benefits come with registering either on the mobile site or desktop. Whichever you choose, know it is time to start placing your bet and getting great rewards for your effort.
What are you still waiting for? Being on the fence undecided will bring no success to you; delve in and move into the tick of the action. Open a Merrybet account today!
How to Fill Date of Birth in Merrybet
Many people have have difficulty in merrybet registration, especially with date of birth. We provide step-by-step of how to input birth date on merrybet:
First of all, open registration form and click on "Birth date" field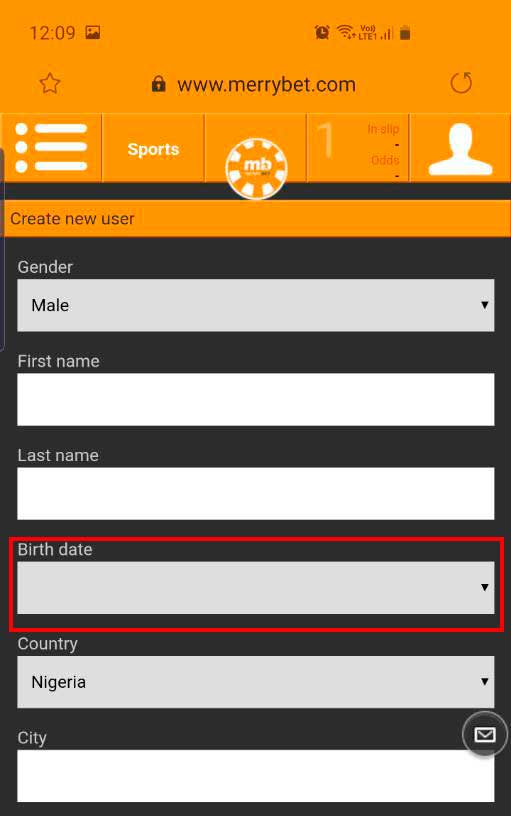 1. On calendar click on the year, to open list of years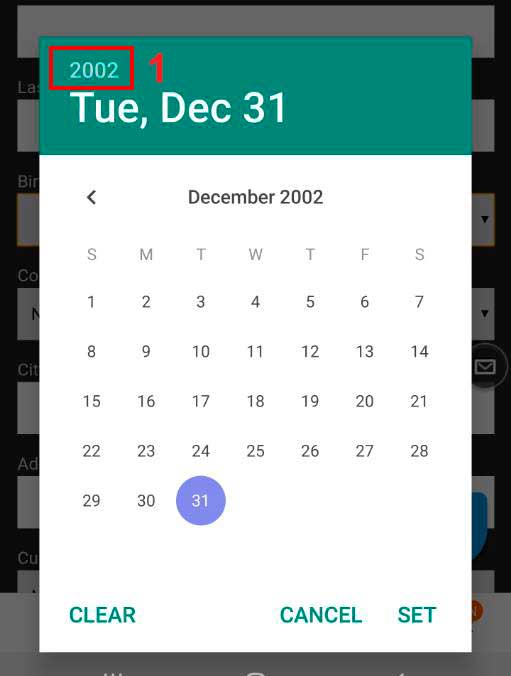 2. Select the year of your birthday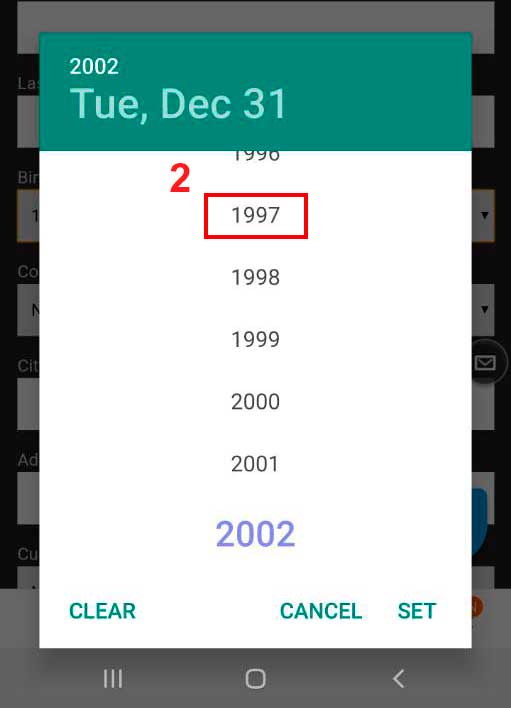 3. Click on the arrows, to select the month of your birthday. It must show your month and year, for example "June 1997".
4. After it, select the day of your birthday, after you did it day will be in a purple circle. It means, that you selected the day.
5. Click on "SET", after it, merrybet birth date in sign up account will be filled in.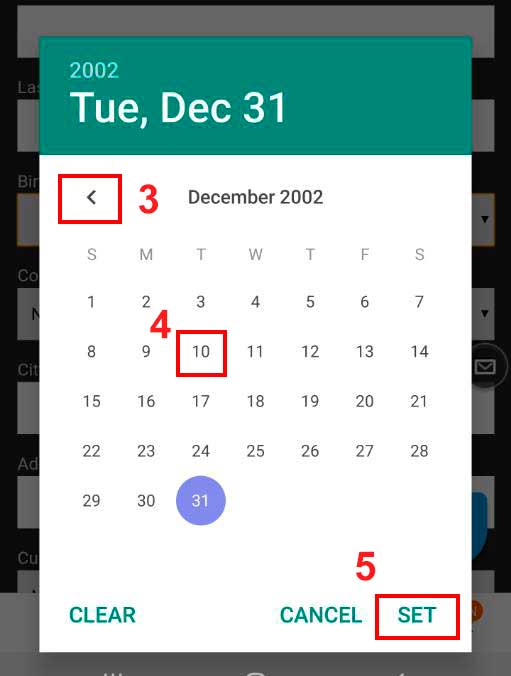 Try our guide right now, click here to register now with our example of date format use in opening merrybet account.
Commentaries{{ commentaries.total }}