This guide is designed for you to grab the opportunities that exist on this platform. You will learn how to go through a Nairabet registration so you can kick-start your exciting sports betting journey. There is no other way to enjoy all the benefits that come with the site other than you owning an account. The benefits are in their numbers, and there is only one way to know—Nairabet registration!
Desktop Registration
Step 1: To begin the process, visit the NairaBet.com.
Go to www.nairabet.com website. The image like the one below will pop up.

Step 2: Click "Register"
From the screen or image, you can see the marked "Register" button on the top right corner of the homepage. To register on NairaBet site, you'll have to click on the button to take you to the next page. On this page, you'll fill in your registration details. The images below will be of great help.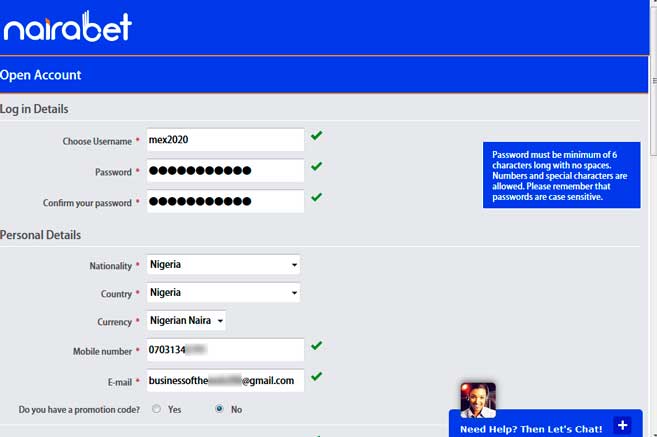 Step 3: Fill in the Necessary Details
Make sure you fill all the necessary information correctly as you proceed with Nairabet registration. Endeavor to use usernames that are easy to remember, again; your password should be difficult to detect but easy for you to remember.
Your email must be accurate. Any mistake could pose a big problem and unable for you to complete your NairaBET registration. Important information will be sent to you via that medium. Cross-check the information you have provided at each stage to ensure accuracy.
Step 4: Click on "Proceed"
You're at the last stage of your registration. After all the fields have been filled and you have confirmed that you're over 18 years and also accepted the" terms and conditions" and privacy policy - by checking their respective boxes - hit the "Proceed" button to finalize your NairaBet registration.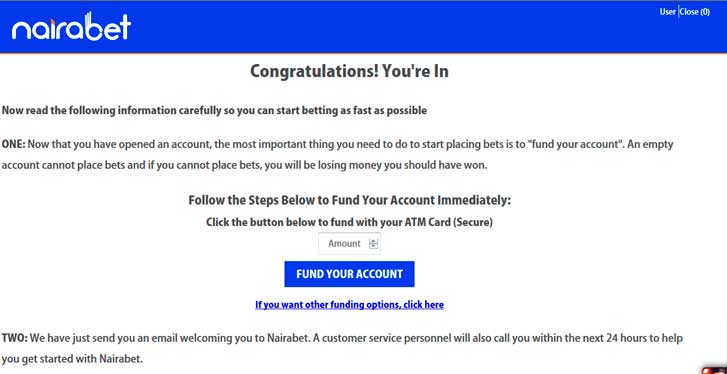 With the field properly filled, you'll get a message telling you that your NariaBet registration is successful; the page that looks like the above will appear.
Step 5: Fund Your New Account
You can decide to fund your account right away; this can be carried out on the successful registration page. You could also do it in different ways. GTBank account holders can fund directly from their account.
Mobile Registration
To begin the NairaBet registration on mobile, navigate to the site, and the page below will appear. The URL is www.nairabet.com.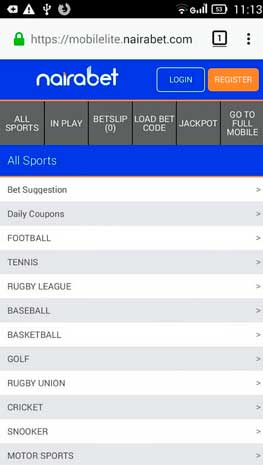 The "Register" button is by the top right corner of the page. Click on it to start the registration process.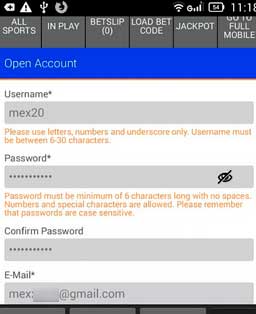 The next page will be the one above. Ensure you choose the right combination as username. The password is of a certain length. Enter your email address.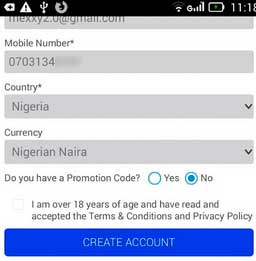 Confirm you're over 18 years and that you've accepted the Terms and Conditions. Click the "Create Account" button.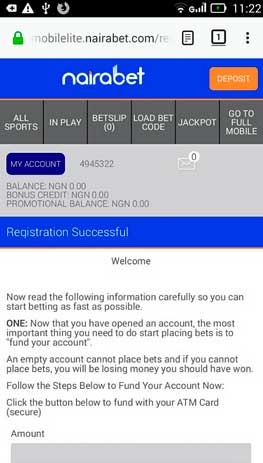 The screen above will appear. At this point, you've completed your NairaBet registration. It is time to enjoy plenty betting opportunities.
Commentaries{{ commentaries.total }}