Bet365 Android Mobile App Review
Main Features. Rating: 5/5
Bet395 android is loaded with A-Z sportsbook containing more sports in more countries. So you have the biggest list of sports to choose and bet on. Is really fun, isn't it? More so, the app features a detailed profile section which allows you to check your withdrawable, bet credits, messages and make a deposit/withdraw on your account. Still, in the profile section, you could activate auto cash out, event alerts and check your latest offers. The in-play tool is used to check statistics on live in-play betting. Exclusive offers are well laid-out on the offers for new and eligible customers. For instance, an attractive open account offer is available for new customers. As a newbie, you have up to $30 bet credit available if you qualify for the offer.
Design. Rating: 4/5
It has an awesome interface and yet simple. The design is professional and has the same quality appearance with the main website.
Bet365 mobile app is compatible with phone and tablets. The app has gone through several changes for years. Once the app is launched and opened, details of live in-play bets show up by default. So that you can bet on any odd as quick as possible. Placed bet are enlisted into my-bets tool for your easy assessment. You don't have to look for the search button because the search button is the "bet365 icon". Just swipe the icon and the search column will appear, type in the words and search. The menu button is usually found at the left-top corner. Behind the menu button is a list of different sports, games and special offers displayed on a dark-grey background. Every detail is well displayed. The odd decimals appear in bright yellow color to be easily spotted by users.
Navigation responds fast to touch, allowing you to quickly make selections on the app. And a quality slide show of the pictures improves the beauty of the app.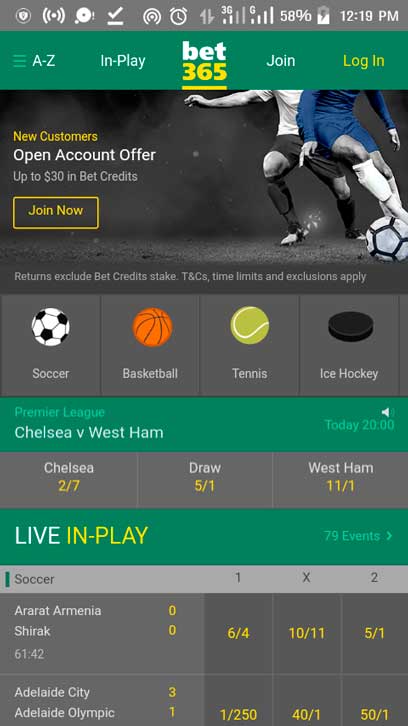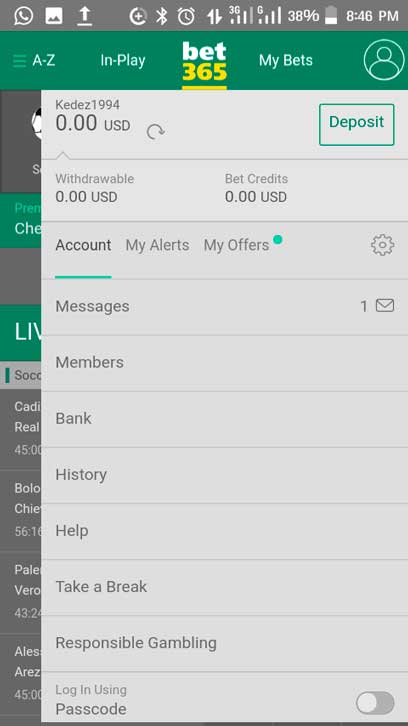 Usability. Rating: 5/5
Just like the body responds to stimuli, likewise the app equally respond fast to your command. There is no ambiguity in the usage of bet365 app. However, if you need clarification you can make use of the help tool.
If you're a newbie, open the bet365 download and tap on join to create your account. But if you already have an account, download the app and login with your username and password. To create your account you must fill the fields displayed on the screen. You must also provide a 4-digits security code before completing the registration.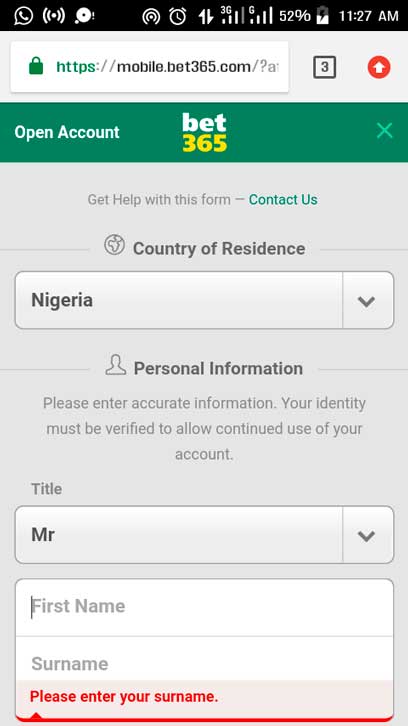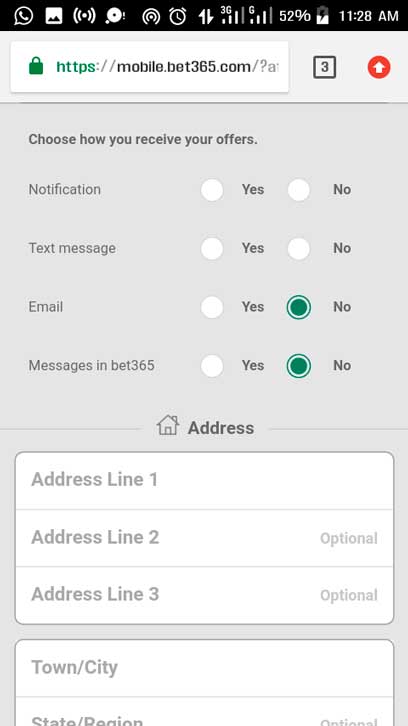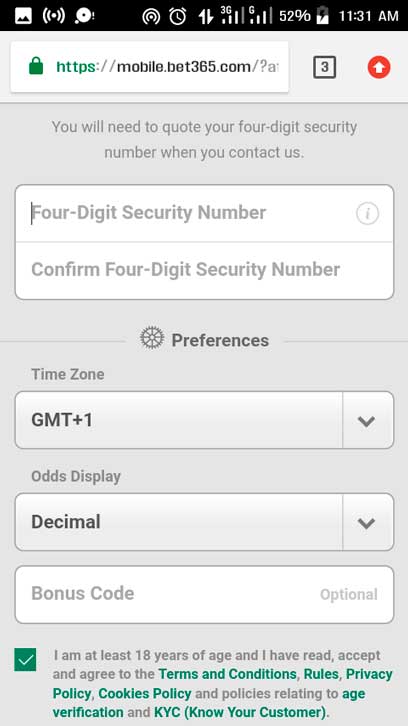 After creating your account, you will be asked to upload a valid document with which to verify your identity. And once is done, you are in to access all the features the app has.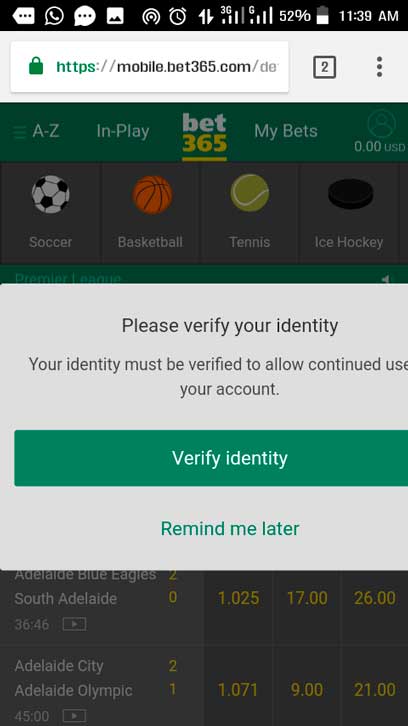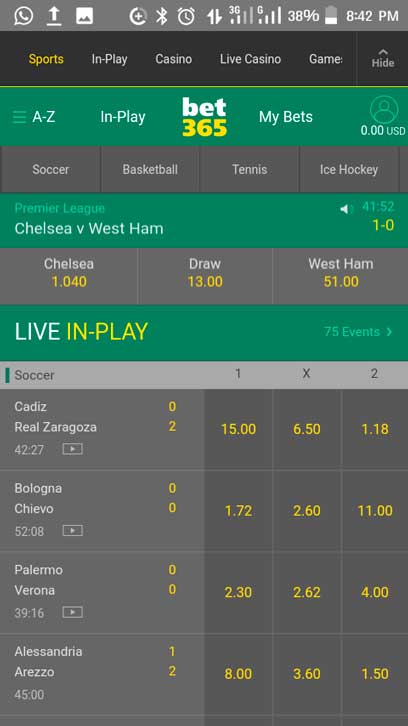 Betting
Placing your bet is easy. You can only bet when you log in and deposit in your account through the listed payment methods. After which, you go to the home screen where popular sports and in-play games are listed and place your bet on any of them. For instance to place a single bet on football, tap on football (soccer), then select your league, find your game and tap on it. Choose your popular markets and tap on set stake. Enter your stake and then place your bet. Remember you can cash-out and withdraw.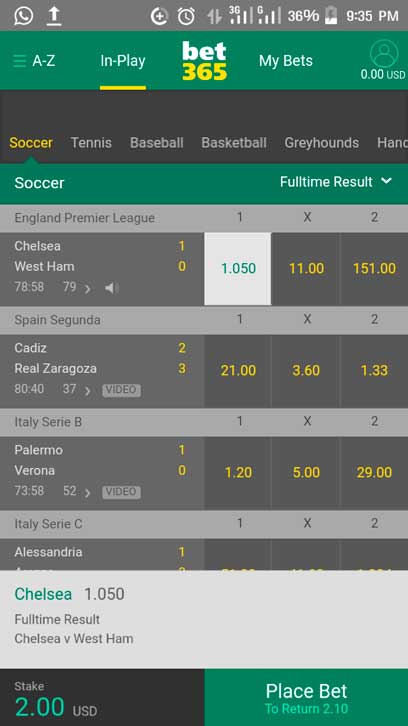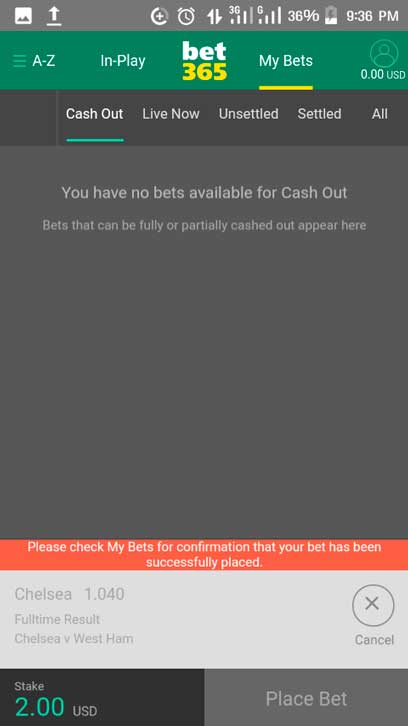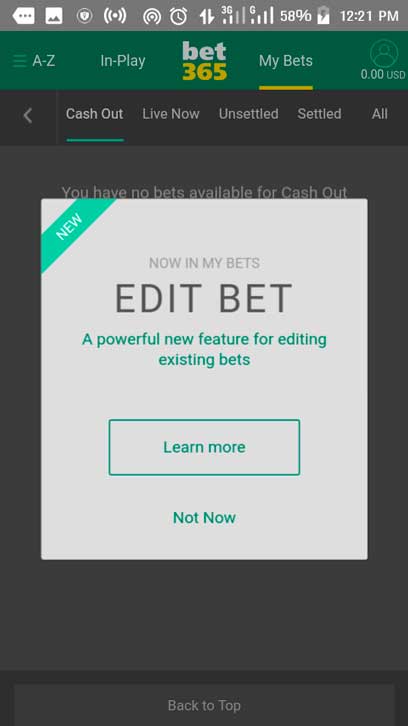 Casino and Poker
You can use the bet365 conventional sportsbook app to play casino and poker. To play, the app first redirects you to your default browser. However, you could save data by playing on casino and poker mobile apps.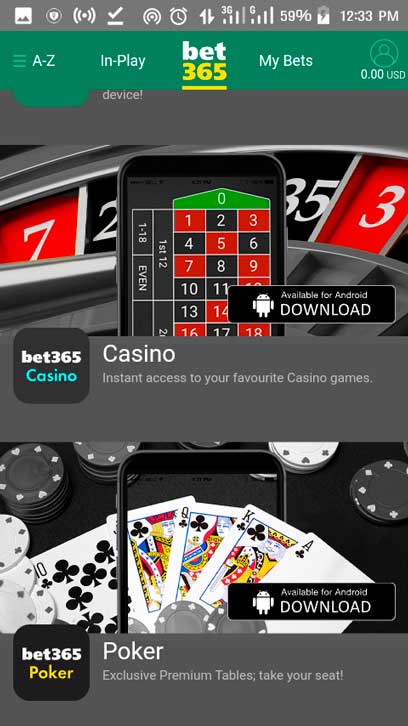 Pros
Quality live streaming
Auto-cash out system alert
Winning bet alert
Editing bet
Virtual
Features best in-play betting
Specifications
Compatibility:
Android 5.0 and higher versions
Commentaries{{ commentaries.total }}