Main Features. Rating: 5/5
Bwin android mobile app is a betting app every punter should have. Its design, interface, and features are fashioned to make steps-to-bet simple. No long procedure for betting, just a tap on the appropriate option and your bet is placed. To ensure efficiency, bwin mobile app comes in different specifics- sportsbook, casino, and poker. For soccer punters, the sportsbook app is the best specific. All collection of soccer events of popular and foreign football clubs with bet selections are captured in it. The bwin app is well-developed, so you can just sit back at home and bet on any sports live and in pre-match.
For over a number of decades, bwin has been up-standing in the world's betting circle. Being reckoned as one of the leading sportsbooks in the world. It has long spread its tentacles in some European countries particularly UK. And now it's already in Nigeria seeking to attract football enthusiasts with an easier approach to betting. Bwin is legal, fully licensed to operate by Gambling Commission.
Bwin android app is packed with efficient features that will make you bet even more. Here are some of them highlighted below:
Exclusive promotions: app features all bwin prize-packed promotions: coin flip, bonus time, Hi-lo, bSPIN, and others. You just have to make a deposit to enjoy these special offers.
Great collection of football events: all the popular football events and clubs are displayed live with their odds.
It features live quality videos of all the listed sports including golf. While watching the live statistics, you can add your favorite team and set push notification live events on the spot.
It has developed bet settings allowing you to make adjustments on bet notification, odd display, cash-out, and bet placement at a time.
Design. Rating: 5/5
Immediately you open bwin app download, you're first greeted with an awesome black and golden-yellow color mode. The details are well laid-out. Home page captures the menu button which hides other options and is situated at the extreme left corner of the screen. So that your finger can easily reach it. Still on the home page of the app, is a list of main features displayed horizontally. Navigation makes the scrolling easier and with push notification, you won't miss out on any updates on live betting./p>
Usability. Rating: 5/5
Download the android app from bwin the main website and install as an apk file. Once you sign-up and login, the app's system on its own will automatically guide you on the use of basic and vital sections of the app. Sign-up starts with providing your email address, user ID, password, and country of residence and ends through 3 steps. No email address verification.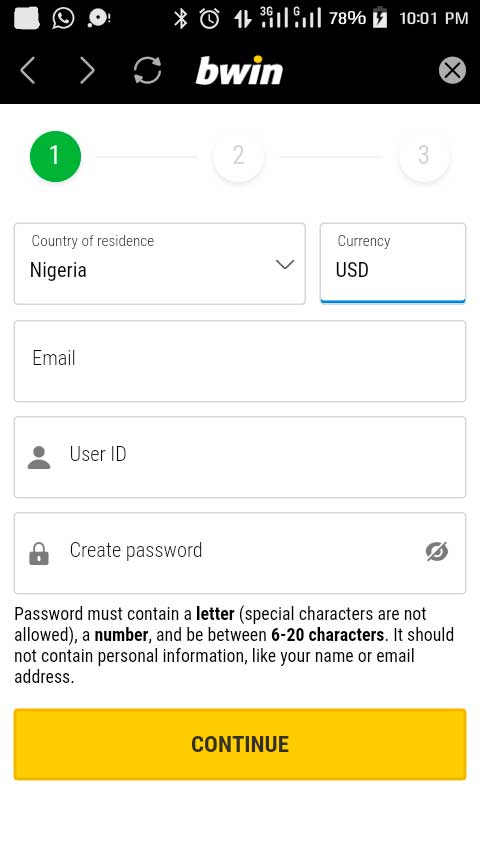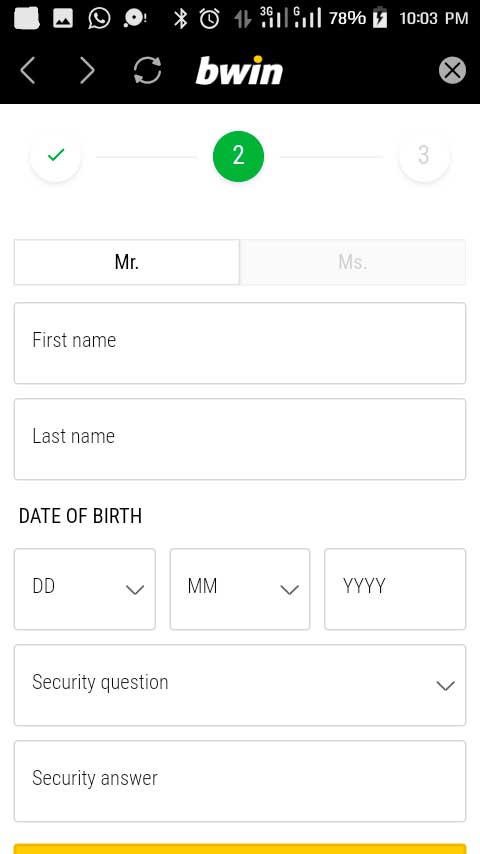 Then log in with your User ID and password. The user ID is not anything beyond username. Most times repeated login due to automatic log out whenever the phone sleeps is tiring. However, you don't need to worry about that, this app allows you to stay login as long as you want even if your phone sleeps. Once you successfully log in, highlights of live sports event and upcoming events are by default displayed on the home. This saves you stress of searching for events to bet on. Then explore the app features and utilize them in the line of what you want.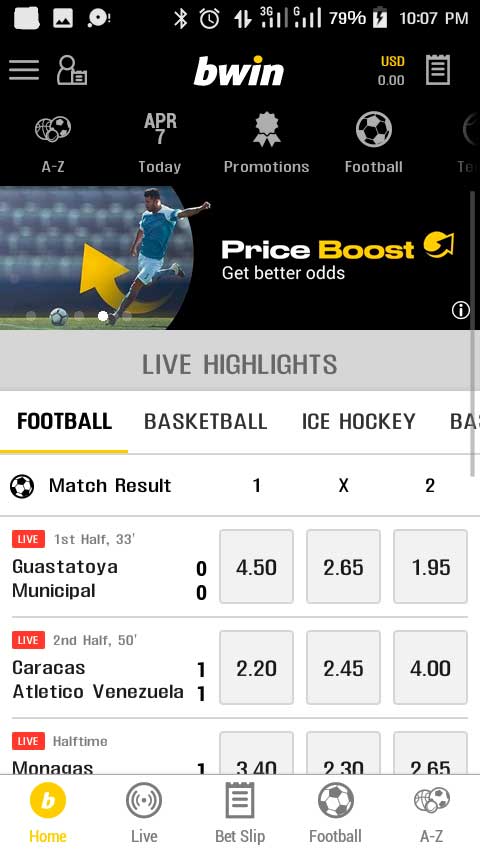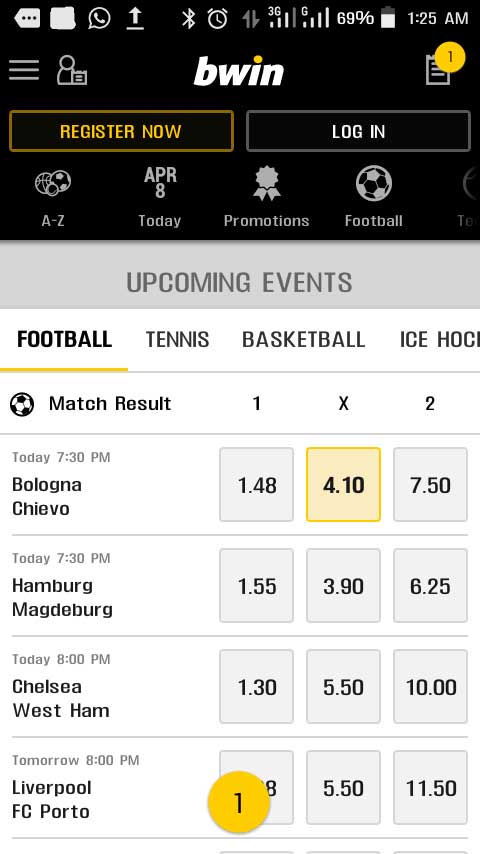 Betting
As it has always been, you can only bet with money to make more money. Therefore you can't bet without making a deposit. First, open up the cashier on bwin android app, select payment methods. Betting is made faster- just a tap on the odds of a particular event, a bet is created. Place the bet and wait for the outcome to favor you. Bet settings help you to adjust your bet and make it more specific. And you can always cash out your bet once the sport has begun or even before the match commences if you envisage loss. Betting on bwin casino is fun especially on live casino. For casino lovers it's charming. You could be the lucky winner.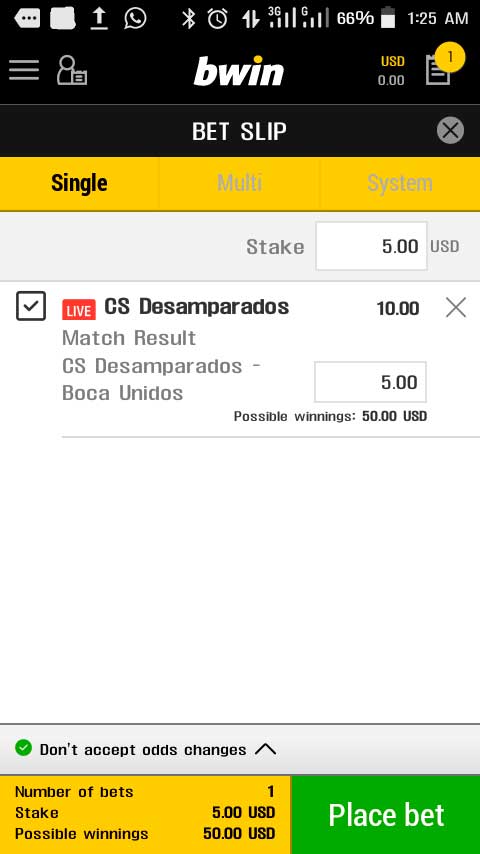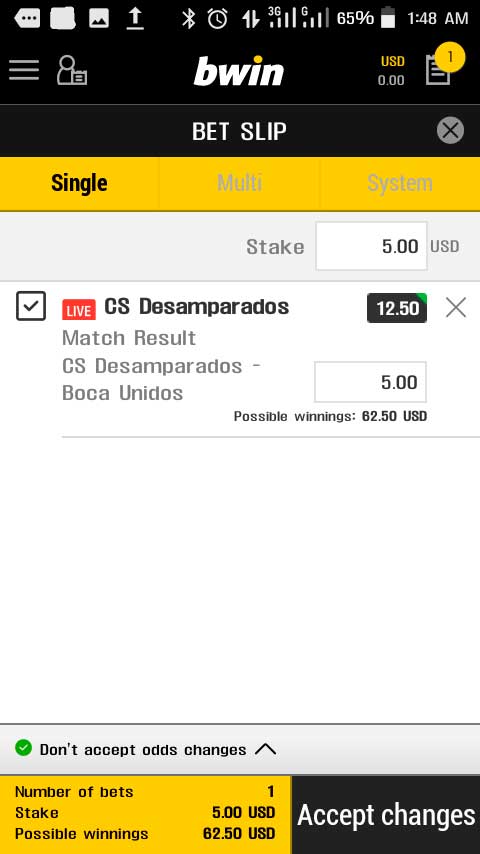 Pros
Ultra-fast
Efficient push notification
Advanced bet-settings
Cons
Heavy and occupies much space
Specifications
Compatibility:
Android version 4 and higher.
Commentaries{{ commentaries.total }}